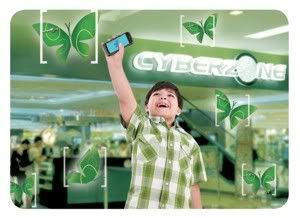 The
iButterfly
, an Augmented Reality Application based technology, first introduced by SM Supermalls in the Philippines, has been officially launched last April 8 across all Cyberzone branches.
The cool technology was created by Japan's Mobile Art Lab and has been successfully launched in Japan, Hongkong, Indonesia, and Singapore.
iButterfly
is an engaging and entertaining mobile information and couponing platform which tasks users with catching augmented reality butterflies. Each iButterfly represents one or more coupons.
With the use of 3 technologies: (1)Augmented Reality for seeing butterflies in the real world, (2) Motion Sensors for catching butterflies using a phone and (3)Global Positioning System (GPS) for finding butterflies at a location, the iButterfly campaign is sure to engage Cyberzone shoppers while enjoying promos and discounts with their tablets and smartphones (Android and IOS platforms).
To join the iButterfly Hunt:
• DOWNLOAD – Using your gadget, connect to the internet via data connection or Wi-Fi and go to the App store (for iOS) or Google Play (for Android). Download and save the iButtefly application.
• CATCH – While connected, access the iButterfly application and start catching augmented virtual butterflies.
• REDEEM – Claim your free items by merely following the instructions as seen on the iButterfly and present it to the participating SM stores.
Download the iButterfly Philippines App now and get ready for the next hunt!